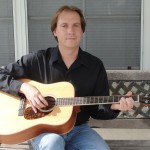 During the day, my full time job is to be the web developer/designer for the Pasco County school system in Florida.  My primary responsibility is the district website, but I also build all of our online publications.
I designed the site you're reading now.
If you'd like me to build a website for your small business, email me at richard@budgetguitarist.com and we'll talk.  I can also host it for you, if you'd like.  I am very interested in working with small businesses in the guitar-related field, so if you make pedals or custom pickguards or custom speaker cabs/amps or anything else guitar-related, email me!  Depending on what you want, I can build you a website that will work on everything from an iPhone to a huge monitor, with prices starting at around $500 for a simple site, including the first year of hosting.  If you currently have a website but it doesn't work on smart phones, half of your visitors are going to a competitor's website.  I can move your existing site to a modern responsive design that'll work on everything.
I look forward to helping you increase you business through your new killer website.